Eonmetall Storage Solutions
Accessories
If you're looking for racking for your warehouse or storage facility that's a little less 'off-the-shelf', Constructor are the team that can provide you with a truly tailor-made solution.
Thanks to our extensive range of accessories and optional add-ons, our pallet-racking range can be easily tailored in a variety of ways, and integrated in a variety of existing systems and set-ups. Whatever your requirements or pallet load.
Whether you're using our Drive-in racking, Mobile racking (MOVO), or storing bulk goods, for us it's all about providing you with optimal storage economics, so you can achieve the perfect balance between investment, volume and handling.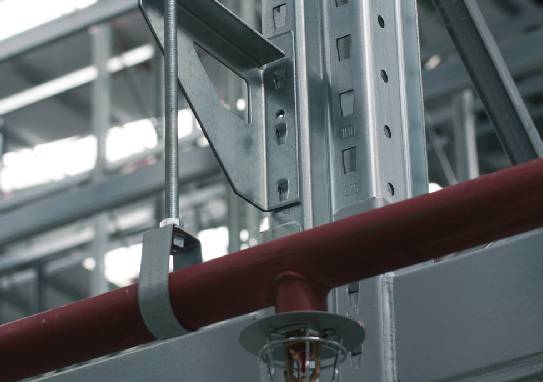 Sprinkler bracket
The rise in popularity of in-rack fire sprinklers has produced many benefits for warehouse safety.
Available in two sizes to reflect the different loading requirements, the CR18 Sprinkler bracket is one-sided and can be installed directly onto the upright.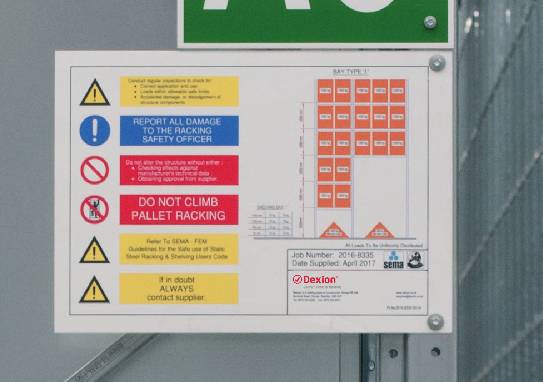 Load and assembly signs
Signage for loading and assembly instructions, which can be mounted on the racks.
All warehouses must have a sign and marking system. It is the basis for an effective handling system within a warehouse, giving correct and fast identification for picking as well as loading of goods.
Sign and marking systems
The sign and marking system consist of information notice boards, aisle signs, labels and holders for marking of beams in pallet racking and shelving systems.
Wire mesh shelf
Mesh decking/shelving sits on the pallet racking beams and acts as a shelf. It is suitable for small carton storage at picking levels, storage of non standard pallet sizes and to offer protection for operatives and fork lift truck drivers working under tunnel bays.
Mesh Shelving is ideal for use in ambient warehousing as well as chill stores and freezers as it allows the even distribution of air and thus temperature.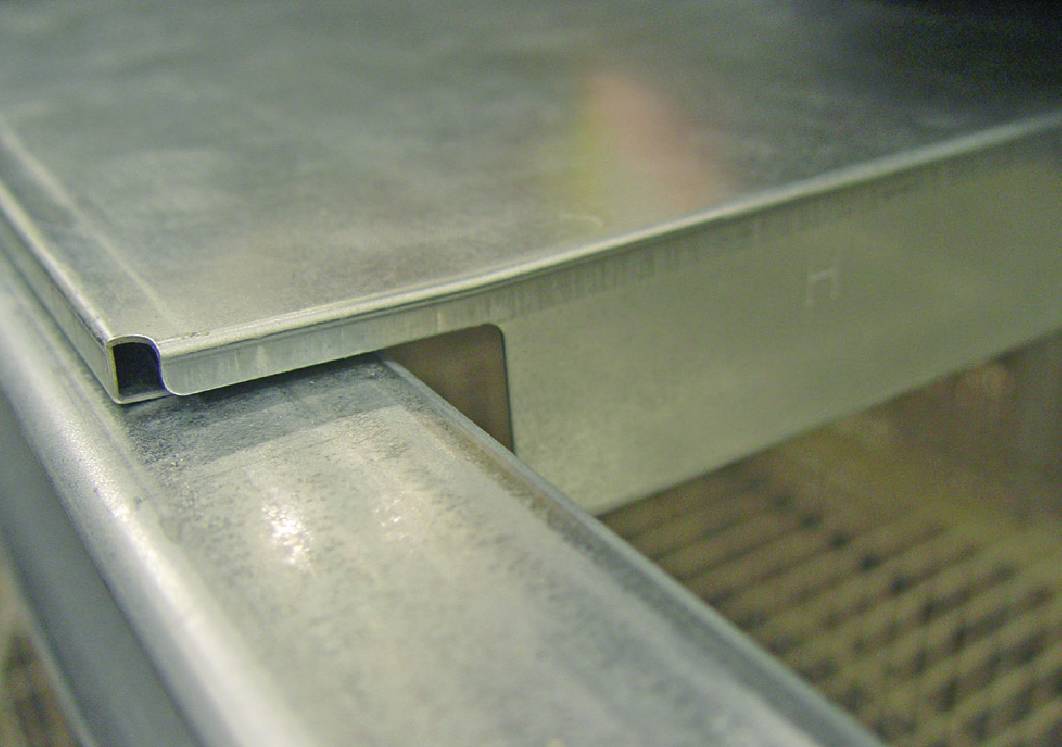 Steel shelf panels
These panels are placed across BX-beams to provide a heavy-duty steel shelving surface for hand-loading.
They are not designed to support pallets.
Wooden decking
Slatted softwood timber panels placed over the pallet racking beams to support small goods, damaged or undersized pallets.
Wooden decking is suitable for both loading by hand or by warehouse handling equipment such as forklift trucks.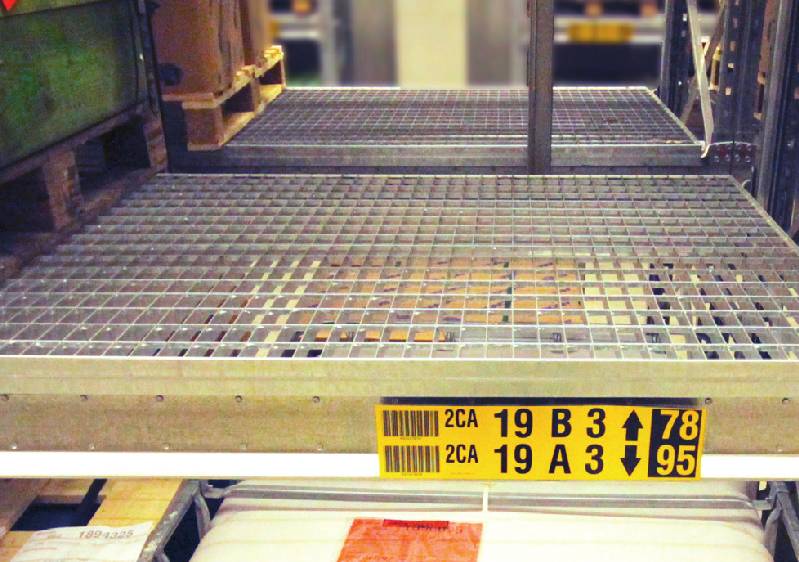 Grating module
Manufactured from steel strips that are press locked together, these grating modules are suitable for both light and heavy duty applications from small cartons to heavy industrial tooling. Their shaped profile ensures that the grating module will not easily dislocate from the pallet racking beams.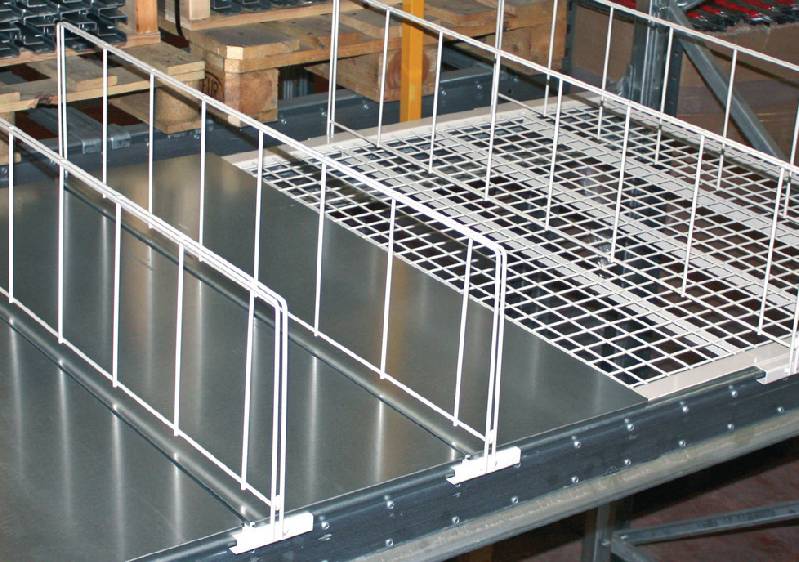 Shelf dividers/partition
Used to separate stored items and create smaller shelf locations by compartmentalising the storage level.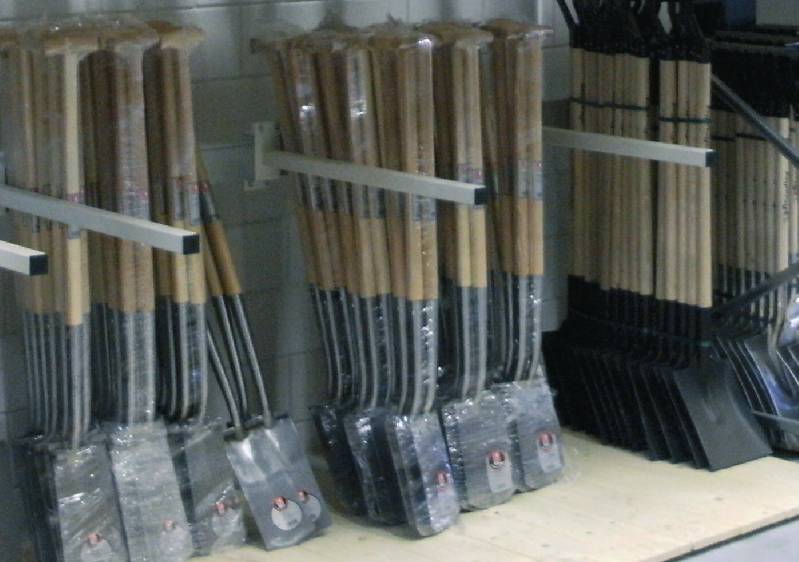 Horizontal divider
Ideal for segregating vertical standing goods in standard pallet racking.
Horizontal Dividers are made to order and customised to suit your products. They are fixed to a beam at the rear of the bay and project forwards into the bay creating individual fixed or adjustable compartments for different stock lines.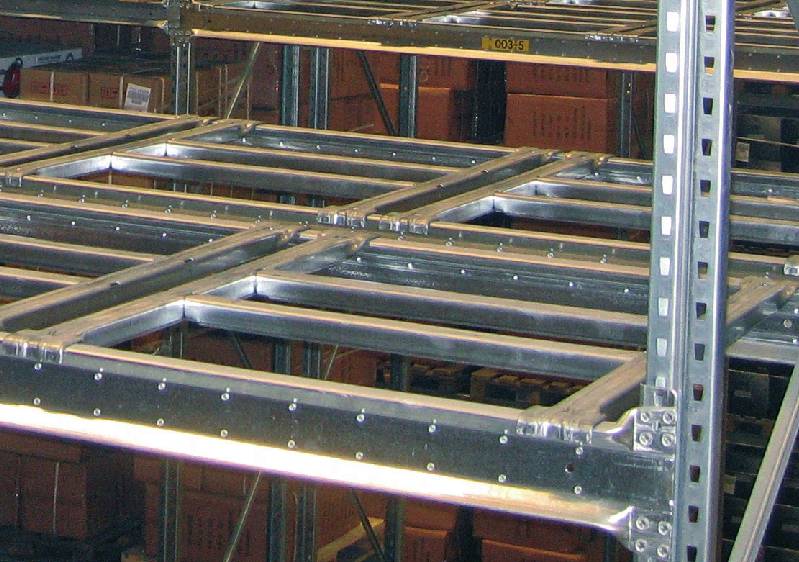 Safety insert
To support pallets 600 x 800 mm (= half EURO pallet).
The spacers positioned in down-aisle direction are designed to provide support for unbound or damaged pallets.
The guard is not designed as a safety net to collect loose boxes or cartons that may fall from a pallet.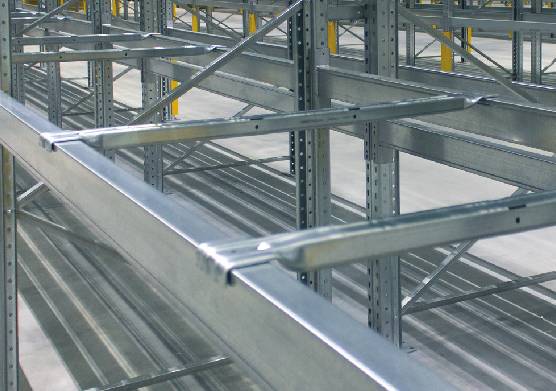 Cross beam / pallet support
To support pallets in front-to-back direction directly on the beam (without front to back base boards).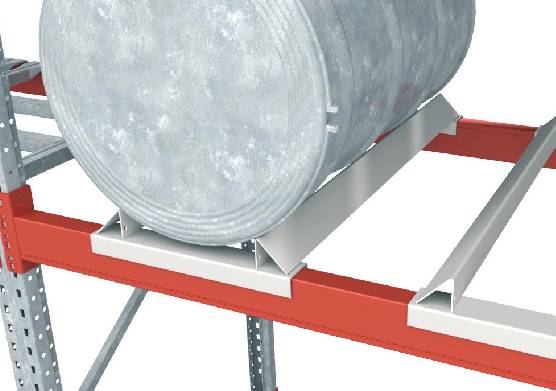 Barrel support / chock
These parts are used for storage of barrels, drums and cable reels in the racks in a similar way as pallets.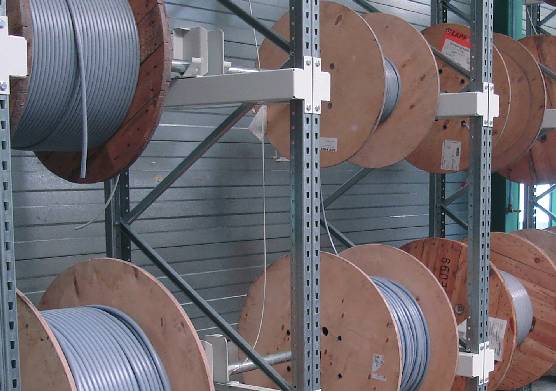 Cable reel suspension
For storage of larger cable reels or carpet rolls that are supported on an axle through their center to be stored in the rack.